Best new Android and iPhone games (June 9th - June 15th)
7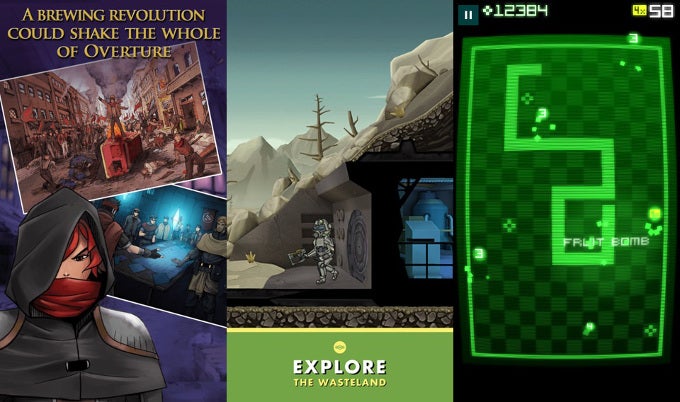 Let's start off the week with some fun with the best new Android and iPhone apps so far in June 2015! In our weekly round up of the best new Android and iPhone games we introduce you to everything new and worthy with no limits to the genre, platform, or price. We can't guarantee that you'd love the genre of the game we've picked, but if you do, chances are you'd spend hours playing one of these games.
With one of the biggest game shows, E3, in full spin, we get a taste of some of the hottest upcoming releases (yes, it's all about Fallout 4), but along the lines of the big guns in gaming for consoles and PC, it is gaming on mobile continues to grow faster than all of them.
This week, we've seen the usual infusion of great new games for Android and iOS, and some of them are so good, you probably should not miss them. We've summed up the very best right below, so with no further ado, here are the best new Android and iPhone games released in this past week.
Nubs' Adventure
Price: Free (exploring the full world requires payment)
Nubs' Adventure is a platforming action and exploration game with a charming retro style and an intriguing story to follow. Nubs' Adventure is an exploratory platformer meaning that you get to explore the world more than fight against enemies. The whole exploration starts from the moment that your main hero - Nubs - is kicked out of his house by the evil Reds and hes to rebuild his dwelling. With Nubs on his journey are his friends: the tiny wisp Ally and a huge worm named Brute. In this game, you get to explore four different world, each with their own secrets, enemies and traps. Control Nubs, as well as the wisp Ally and the worm Brute. Fight the evil Reds in epic boss fights. Solve puzzles and collect diamonds to rebuild your house.
Transistor
Price: $9.99
The science fiction RPG Transistor that will be familiar to lovers of the genre who own consoles has arrived on mobile, retaining a lot of its visual excellence and intricate combat and gameplay options. The game has been redone with new touch controls, but - luckily - you also have the option to hook up a gamepad and use it to play on your phone/tablet. A fast-paced action RPG, Transistor walks you through mysteries as you pursue its former owners through a rich and atmospheric story.
Fallout Shelter
Price: Free
Called Fallout Shelter, the game basically puts you in control of your own vault, with all the cool things that might be happening in there, much like a life simulator, Sims-style. Optimized for a touch screen, Fallout Shelter allows you to build new quarters and level the residents up, plus you can really reproduce them the old-fashioned way, but we will save the details on that bit for when you install the game and play around with it a while.
Edge of Oblivion: Alpha Squadron 2
Price: $4.99
In the intricately drawn flight action-arcade game Edge Of Oblivion: Alpha Squadron 2, you jump into the cockpit of a powerful starfighter and join the galaxy's most daring pilots as they face off against the evil Hadian Empire. Your enemies range from enemy fighters, mechs, and tanks to capital ships. The arial battles happen in immersive locations including snow, deserts, highlands, oceans, volcanic lava fields, alien cities, and more.
An Octave Higher
Price: $6.99
A full version of this visual novel, the game tells the story of Elise, Franz and Frederic as they set on their own paths, each joined by one thing: a broken piano. Each of the three is gifted in different types of magic that has been revolutionized into creating magic machinery. The industry is evolving and the world of this visual novel finds itself on the forefront of technology; at the cost of their own working class. But in a world where magic defines your class, there is unrest in the background and rumors of a revolution are stirring...
Snake Rewind
Price: Free
A modern spin on the beloved classic game, Snake Rewind offers the modern graphics twist, while retaining the arcade feel and dynamics of the original Snake game.
One More Dash
Price: Free
A casual game with intense dynamics that require a fast and right reaction in the perfect time.