Best new Android and iPhone games (June 16th - June 22nd)
2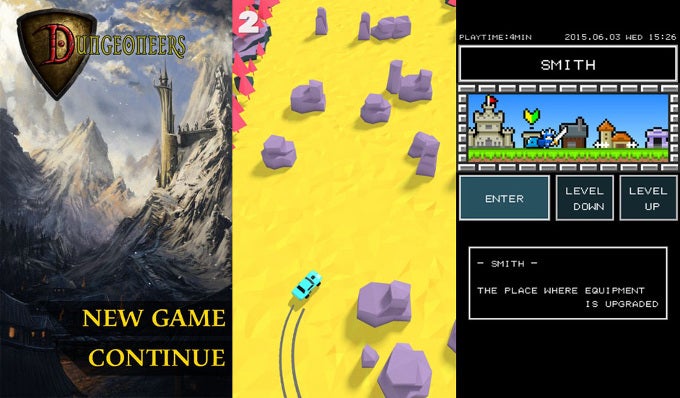 Let's start off the week with some fun with the best new Android and iPhone apps so far in June 2015! In our weekly round up of the best new Android and iPhone games we introduce you to everything new and worthy with no limits to the genre, platform, or price. We can't guarantee that you'd love the genre of the game we've picked, but if you do, chances are you'd spend hours playing one of these games.
Bit Bit Love tells the charming story of two bits fighting the unforgiving system
This week welcome us with another selection of awesome new titles with the new top-down shooter Xenowerk by Pixelbyte heading the lineup with its intense action and a story about an underground science lab. PES Club Manager is another new game for the lovers of soccer simulators, but our personal favorite is a bit further down the list in the charming new puzzler Bit Bit Love.
We, however, won't spoil any further - instead, just take a look at the full selection of this week's best new Android and iPhone games.
Xenowerk
Price: $1.99
Genre: Top-down shooter
Xenowerk is a top-down action shooter challenging your combat skills in an underground science lab. Descend deeper into the abyss and explore the tarnished levels. Armed with a flashlight as your main guidance, you'll never know what's lurking in the dark. Your objective is to destroy all the nests and eliminate all mutants to prevent them from spreading.


PES Club Manager
Price: Free
Genre: Sports
You get to create your dream soccer team in PES Club Manager, a new game from the popular Pro Evolution Soccer franchise featuring over 5,000 licensed players. You get to select and train your players, build your own clubhouse and give tactical instructions to your team to become the best club manager in this virtual world. PES CLUB MANAGER uses an optimized version of the game engine from the well-known console video game, Pro Evolution Soccer 2015 with graphically impressive 3D matches and real-time stats. You also get to change your tactics and control your team in real time.
RPG Legend of Ixtona
Price: $3.99 (launch price, regular price is $8.99)
Genre: Japanese RPG
Legen of Ixtona is a full-blown strategy RPG game from an isometric perspective. It features a variety of different classes and you get to develop skills to wade your way through the enemy hoards. The story circles around the leadership of the wise king Lefante, but Kyle, a compassionate young prince caught up in plots and conspiracies, have thrown him head-first into a battle that will ultimately decide the fate of the kingdom.
Dungeoneers Quest
Price: $2.99
Genre: RPG/First-person dungeon crawler
Dungeoneers is a party based, first-person, dungeon crawler, where you create a party from unique classes and battle your way to the end of an ever-changing labyrinth. The game supports more than 65 unique skills that you need to master while strategically managing your resources. With each new floor reached, the rewards and challenge increase, and should you press your luck, and fall before fleeing, you will lose the riches you have gained.
Bit Bit Love
Price: $0.99
Genre: Puzzle
Where would a game about two bits of data who have fallen in love and are looking for each other while avoiding deletion come if not from France? Bit Bit Love is a charming puzzle game with a story of a digital world where love is not allowed and that's why when R0D and A5CA enter the system, security agents try to delete them.
Gangster Paris: City of Lights
Price: $0.99 (launch price)
Genre: Third-person shooter
Gangster Paris puts you in the middle of the shady underworld of Paris, on a mission to thwart a terrorist plot aimed at taking control of the city. The plot twists as you're betrayed by a close friend, the coup succeeds, and Paris lives from then on dark occupation days under the threat of a hidden nuclear bomb. Only you know where it is hidden. In this third-person shooter, you explore Paris faithfully reconstituted and optimized, with a map ranging more than 5 km in diameter, with 11 districts and other areas, including all the wonderful Paris sites such as the Eiffel Tower, the Champs Elysées, the Louvre or Notre-Dame.
Omber
Price: $0.99
Genre: First-person RPG
Omber is a first-person role-playing game, where the Wizard Somes has captured the Princess Kroma and keeps her prisoner in the Omber, an alternate dimension. He uses her magical powers to enslave the local villagers to work in his mines. It's your mission to kill Somes, free the villagers and free the Princess. There are resistance fighters who will help you. You'll have Root, a wise Ent to adventure at your side.
MinuteDungeon
Price: Free
Genre: Dungeon crawler
A classic dungeon-crawler in a retro-styled pixelated 2D world with mysterious labyrinths and fearsome enemies.
Star Wars - Heroes Path
Price: $3.99
Genre: Puzzle
In this puzzle game, you get to lead Luke Skywalker, Han Solo, Princess Leia, Chewbacca, and Obi-Wan Kenobi through puzzles that the characters can solve using their special abilities as they travel from Tatooine to the Death Star. Every move can also trigger enemy reactions that will change the game and your strategy, which adds complexity to the gameplay.
RESCUE: Heroes in Action
Price: $2.99
Genre: Simulation
This game aims to simulate what it feels like to be a firefighter, a "hero in action" from a top-down perspective and with the possibility to choose and customize your squad.