Best Galaxy Note 7 plastic film and tempered glass screen protectors
4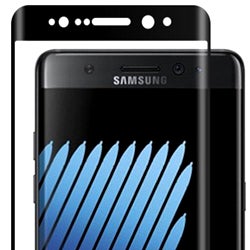 The
Galaxy Note 7
has a unique 5.7" Quad HD Dual edge Super AMOLED curved display that slopes to the sides, and you can bet your dog that it is going to be very expensive to replace it, if you accidentally hurl the phone face-down towards Mother Earth. Granted,
Samsung used Gorilla Glass 5
for the first time in a phone, yet how much tougher the screen is, is still to be determined.
Fret not, however, as barely has the
Note 7 order mania been hinted
, and there are already a few reputable accessory makers that offer screen protectors for your precious, though tempered glass protectors are still rare.
That's why we'd recommend to go with a simple film one until more info trickles down on the harder protection, but still, take a peek at what's on offer in terms of glass or plastic screen covers currently available for the Note 7, as you might want to grab one now, and start protecting your precious investment right from day one. These below are not the official manufacturer prices, as you can usually find those protectors for much less on places like Amazon and the like.