Best Buy will sell you a $149.99 32GB HP TouchPad, but you'll need to buy a computer first
8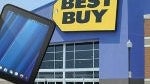 Word has it that HP is finally sold out of the
HP TouchPad
altogether, so that begs the question – where does one go to try and snag these fire sale units? Well, if you're still serious about trying to obtain one at their hard to beat price, you don't need to look further than your
good old local Best Buy store
.
Well folks, it seems that big box retailer
Best Buy
will be throwing a promotion that focuses around the webOS powered tablet. Starting on
November 1st
, customers will have the opportunity of buying the 32GB HP TouchPad for
$149.99
, but before you're able to snatch it at that price, you'll be
required
to buy an HP or Compaq computer first. Yes folks, you heard that correctly, but you'll need to drop some dough on a computer before being granted the ability to buy the HP TouchPad at its miraculous price. If you're
looking for the 16GB version
, you'll be saddened to know that the retailer won't have any in stock.
Some might be thinking ahead on how to go around the issue of snagging the HP TouchPad only for $149.99, but it seems as though Best Buy employees are trained in dealing with it. Specifically, if you attempt to return the computer, but decide on keeping the HP TouchPad, you'll actually be charged the full $599.99 for the tablet. So yeah, this deal will obviously benefit those who are already planning to purchase an HP or Compaq computer beforehand.
Of course, if you happen to know a buddy or friend that's looking to buy an HP or Compaq computer sometime soon, you might want to befriend them even more if you're intent on getting your hands on the TouchPad. Again, this might seemingly be the last opportunity to pick up the tablet at that price.
via
Electronista
&
PC Magazine