Best Buy store in California is selling the 32GB HP TouchPad at its full $600 retail price
8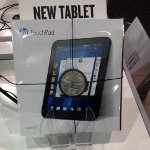 By now, the hype surrounding the
HP TouchPad's
fire sale has probably died down, dwindling back to oblivion. Sure, it had its time in the spotlight for making itself super affordable to own, but it's very unlikely to see any of them being sold at your favorite local retail store. Still, you simply don't know where this webOS powered tablet just might show up.
Well, if you happen to live close to the
Santee, California Best Buy store
, you might be intrigued to know that they have the
32GB
HP TouchPad for sale – and from the looks of it all, it's in stock right now too. Indeed, it's questionable as to how they've managed to obtain the long discontinued tablet, but the interesting part of it all, is the price that Best Buy is asking for the tablet.
$599.99
retail price, but as we all know, that shouldn't be the case anymore. Not only are they going to keep people at bay from picking it up, but someone has messed up somewhere because it's tagged as being a "
new tablet
." Sure, there's a security lock all over the tablet, but seriously, it's not going to be needed since its cost will keep customers far away from it.
Obviously, there can be some kind of mix up at the store level, well, either that or some employee is simply misinformed. In any event, we're certain that this price gaffe will be fixed soon, and whoever is fortunate enough to be there for the price drop, they'll be surely lucky.
via
webOS Nation