Best Buy November Buyer's Guide shows off the LG Cosmo Touch, Vortex, & Optimus S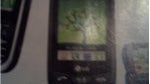 November is looking up to be a pretty good month for LG seeing that a few of their upcoming devices are taking hold of some much needed advertising space in Best Buy's November Buyer's Guide. One of our tipsters managed to take a few shots of the Buyer's Guide which also happily indicates the pricing structure set by the big box consumer electronics retailer.
First up is the LG Cosmo Touch which is bound for Verizon and is essentially a variant of Sprint's recent LG Rumor Touch handset. Originally thought of being called the LG Cosmos Touch, since it's looking to replace the aging LG Cosmos VN250, it appears that it's going to be dropping the last letter in favor of a more chic name. For those who are interested in picking this up whenever it lands, it looks like it'll be sporting that all too great free pricing with your signature on a 2-year agreement.
Another LG handset bound for Verizon, the Vortex, is also being offered for the price of free as well with a contract. Just when T-Mobile's $29.99 pricing for the LG Optimus T was starting to look like the king of entry-level Android smartphones, Best Buy is surely going to attract some people with the no cost pricing with the LG Vortex. And when you think about it all, the handset boasts all the wonders that just about any other Android phone before it had to offer.
Finally, the LG Optimus S for Sprint is also featured in the Buyer's Guide and is hinted to be "coming soon." Although pricing with Best Buy is yet to be known, it's already got some competition with the LG Vortex. We'd imagine to see this one follow accordingly – much like other LG Optimus handsets. All in all, Best Buy will be at full force when it comes to showing off LG's latest handsets this coming holiday season.
Thanks Vincent D.!