Best Buy Canada puts Android 3.0 into the HP TouchPad
3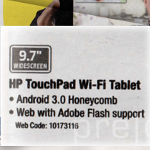 Imagine taking a look at the latest circular for Best Buy's stores in Canada. You see a picture of the new HP TouchPad and when you start reading about the features of the device, it hits you!
When did Google acquire HP?
Of course, Google did not buy out HP. What actually happened was that a mistake in the copy for the circular was not noticed by Best Buy's proof reader and the ad shows that the HP TouchPad is powered by Android 3.0 Honeycomb. Of course, we all know that the tablet is
powered by webOS
.
With all of the Android flavored tablets being launched, the copywriter probably assumed that this was just another
Android model
with Honeycomb aboard. The circular expires July 21st, so the faux pas will soon be forgotten until the next mistake. We wonder how many readers didn't spot the error when reading the circular straight out of the mailbox. Even worse, we wonder how many Canadians will head over to their local Best Buy store asking to buy the Android 3.0 flavored HP TouchPad.
source:
Precentral