#Bendgate is back with the iPad Air 2: Watch the wafer-thin tablet snap in half on video
99+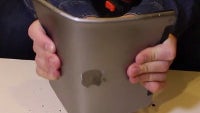 Looking back at the whole
iPhone 6 Plus #Bendgate debacle
, it's impossible for anyone to downplay the incredible effect a single video from a guy who thought it's a good idea to test out the phablet's rigidity generated. In fact so easy was the
iPhone 6 Plus
to bend that the original clip that started it all racked in views in the tens of millions on YouTube alone -- a fraction of the total interest generated throughout the web. It's hard to pinpoint any one single factor that contributes to content's sudden rise to viral status, but in the case of #Bendgate, it probably had at least something to do with the fact that we were talking about an Apple product, Besides, there's just something oddly-satisfying (and, at the same time, horrifying) about witnessing the destruction of tech that costs hundreds of bucks as if it's no big deal. But enough with the introduction.
When Apple took to the stage about ten days ago and announced that its new
iPad Air 2
will be impossibly-thin, at 0.24 inches (6.1 mm), many of you have probably paused for at least a second to consider the possibility that it, too, will easily bend. Interestingly enough, the first bend test of the iPad Air 2 that we saw just two days ago (see it below) lead us to think that the Air 2 won't suffer from a similar issue. The slate looked rigid. But another video that followed up just hours later shows a completely different picture -- not only does the iPad Air 2 bend, but it can be literally snapped in two with just two hands. Yep. This again.
Obviously, unlike the iPhone 6 Plus, you're unlikely to ever think of putting your iPad Air 2 inside your pocket (nor will it fit anyway), and it does
seem
like our bending expert is exerting quite some force in the video. Beyond a certain point, we can't reasonably expect a gadget like a tablet to withstand as much abuse, after all. Right? What say you? Are we looking at yet another round of #Bendgate?