Beddit connects to your phone, and tells you how you really sleep
1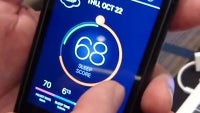 How well do you sleep? Do you use a wrist-worn tracker to assess how you sleep? Beddit has another way to leverage sleep data and connect with your smartphone. The Beddit Sleep Tracker makes your bed a smart bed.
The Beddit is placed under the sheets. The strip is basically an ultra-sensitive microphone of sorts. It detects your breathing patterns, heart rate, and of course, how your body moves when you are trying to sleep.
The iOS and Android app then tracks and aggregates this information in great detail, and then gives you a sleep score. The app then provides details about what happened while you were sleeping and offers suggestions about how you can improve your sleep score. For iOS users, the app integrates with Apple Health Kit, and also works with the Apple Watch.
As companies learn more about us through the activity trackers already in use, we can expect to see more and more accessories that are operated through our smartphones. Beddit is already put to use in a number of sleep study programs, including assessments for those suffering from PTSD.
The Beddit is available at all Apple retail stores, as well as through online retailers for $149.