Become better in the kitchen: Android cooking apps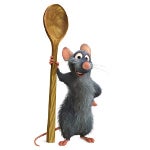 Sure, we've all heard about those fancy recipe apps for smartphones that hold the key to preparing thousands of delicious dishes, but for those of us who have always lacked the courage to step into the kitchen wearing a tall, white hat, those apps have never cut the mustard...
What we, cooking-challenged individuals have always needed is a guide to the complete experience of cooking. And you know what? There just isn't an app that can give you that. There are recipe apps, groceries apps, timer apps, conversion apps, but there isn't a single, simple solution that would let us finally get going in the kitchen. But just because a developer out there hasn't thought of such a complete solution doesn't mean that we're giving up. Nope. Quite the contrary - we here folks at PhoneArena, whose cooking abilities reach as far as playing Dinner Dash (Cooking Dash is just too complicated), will NOT... GIVE... UP! That's why we decided to cook up this complete, yet extremely to-the-point guide that will finally learn you (and us) how to prepare real food.
No more boiled eggs! No more noodles! Hello, Bourbon Street Chicken! Hello, Salisbury Steak with Mushroom Gravy!
Okay, let's tone the excitement down a little bit, because we still have a lot of work to do, before we end up with an actual meal. Now, fellow nerds, please proceed by exploring the slides of the following gallery, for at the end of it, you will be able to proudly call yourselves... real chefs!
Please note

that PhoneArena doesn't assume any responsibility for damage caused to you or your home due to failed attempts at cooking!




Useful tip

from your friendly neighborhood chef: Better try this at a friend's house first, and then at your own!