Batman up your phone! The best Dark Knight wallpapers, lockscreens, and games for Android
8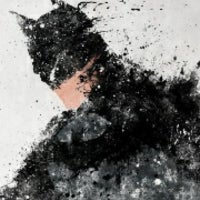 Well, folks, the long awaited "Arkham Knight" game for PC and consoles has finally been released and has fans across the world stepping in the boots of our favorite dark hero as we speak. Well, PC owners may not be too thrilled, as the game is reported to be poorly optimized at launch, but if you are a console gamer who has the new title, or are just one who is still soaking in the hype and taking their time before pulling the trigger on a purchase, you can probably feel that good old feeling of Batman fandom rising in your gut.
So, what better time to add some Dark Knight flair to your Android handset? We delved into the Play Store and fleshed out the apps that Bruce Wayne himself would download. Let's check them out!
Slide to Unlock - Batman Lock
Price: free
A lockscreen that adds a "slide to unlock" bar, a-la iOS 6. The twist is that it's so Batman themed, you'd swear it's been programed by Oracle. You are given a choice from 16 different wallpapers featuring the Caped Crusader and all buttons that appear on the lockscreen are shaped to look like the hero's own insignia. We are not fans of the constant ads popping up, but that's only an issue while choosing a picture for the screen.
SuperHero Wallpapers
Price: free
SuperHero Wallpapers is an app that gives you access to a big collection of various hero-themed wallpapers. But don't worry, they are categorized by character, so you can easily access the 20 Dark Knight-themed pictures that the app has. Once you pick the one you want, the app will download a high-res version of the image to your phone, so you can use it on-and-off as you desire.
The Joker Wallpapers
Price: free
Let's face it, if you are a fan of the World's Greatest Detective, you are probably fascinated with the Joker, too, if only just a little. Well, The Joker Wallpapers has you covered – the app houses 23 different images, ranging from the modern dark tone to a couple of dialed-back, classic ones.
The Dark Knight Rises
Price: $6.99, in-app purchases
Probably the best Batman game for mobile, Gameloft's The Dark Knight Rises is still marred by a number of issues that will make it feel boring or tedious at times. However, taking it for what it is, it's still a nice title to have on one's smartphone – just in case those Batman tingles kick in at an unexpected moment.
Other Batman Games
| | |
| --- | --- |
| Arkham City Lockdown | Android ($5.99, IAPs) | iOS ($5.99, IAPs) |
| Arkham Origins | Android (free, IAPs) | iOS (free, IAPs) |
| Injustice: Gods Among Us | Android (free, IAPs) | iOS (free, IAPs) |
Unfortunately, the Arkham titles that came out for mobile are far from the Batman-like gameplay of their console counterparts, and feel more like boxing games with Batman costumes. This doesn't make them bad mobile games, but fans that download them hoping to get a similar experience to what the "big" titles provide may be disappointed. The same goes for Injustice, which is far from the over-the-top opponent juggling, combo-frantic game that the original console title is. Download any of these with this in mind and you are still bound to have fun playing them, if only just for a while!