Band swapping not possible with Apple Watch Sport model; entrepreneurs crushed
95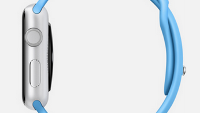 A little confusion on Apple's part had led many to expect that the Apple Watch Sport would be arriving with two bands out of the box. As a result, enterprising individuals opened websites designed to help facilitate trading your extra band for another one of a different color and size. One such site called
BandSwapper
, will send you a self-addressed envelope for you to send your extra band in. You would then receive a replacement band in the color and size you requested by return mail from BandSwapper.
But there is a major hiccup in this plan. While Apple has said that two bands would be in the box, there are actually three separate band pieces included with the watch. When these pieces are assembled, it forms one band for the Apple Watch Sport in either S/M or M/L which will fit all size wrists. Yes, pieces of the band can still be swapped, but the result would be a multi-colored band that would not look as pleasing to Apple Watch Sport owners.
The bottom line is that there are not two complete watch bands in the box, and some entrepreneurs who thought that they could ride the Apple gravy train will actually have to disembark earlier than they had hoped. BandSwapper was hoping to charge $6 for each transaction. The site has fought back with tweets saying that "
speculation is not confirmation
," but that is a last-second desperation move. Too many reliable sources have already confirmed that only one complete band comes with the Apple Watch Sport.
source:
TechCrunch