Back to school promotion might bring $0 family plan add-ons to T-Mobile?
8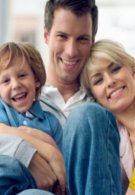 In a grueling and tough atmosphere, it's going to take a lot to garner the attention of consumers who are still reeling from the unstable economy and doing what they can to find the best deals. We've seen a huge shift in the last year how prepaid carriers continue to attract customers thanks partly to their competitively priced plans, but the tide might soon change with T-Mobile expected to gain a solid foothold within the industry.
It's rumored that the number four wireless carrier in the country to differentiate itself even more with a special back to school promotion that would seem almost earth shattering compared to the competition. We currently see how the carrier offers $10 and $5 add-a-lines to their family plans, but would you believe that they might even drop it down to free? Well, the rumors point to this eye catching strategy which will allow customers to add lines to family plans for absolutely no cost – meaning, Even More and Even More Plus plans would qualify for this. Additionally, it would be available to non-unlimited family plans, but of course, the free lines would only apply to the third, fourth, and fifth lines on the family plan.
If this indeed becomes a reality, it will really put a dagger straight into the hearts of their competitors. From the sound of it, T-Mobile might commence this promotion as soon as September 8th – so if you're in the market for family plans, you might want to wait around until then to consider your choice.
source:
TmoNews