Babies think magazines are tablets that don't work now, the horror of printed media
40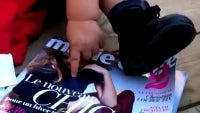 The following video will make a lot of people cringe, since they have grown up with books, newspapers and magazines as carriers of information, but it seems that the end of print media is just a few years away.
We might like the smell of freshly printed newspapers, the glossiness of magazine pages, or ruffling the pages of a physical book copy, but those are seemingly going to be harder to find, with their presence only reserved for museums one day, the way we are now exhibiting parchment manuscripts.
A great deal of proof we are heading that way lies in the simple video below of babies trying to work a magazine after close encounters with their parents' iPad. They try swiping, scrolling, pinching to zoom in, multitouch, and when none of these work end up a bit miffed about this paper tablet that doesn't seem to comply. The smell of printed paper for that generation will be replaced by the smell of glass and plastic, or whatever materials manufacturers come up with for making slates.