AuthenTec patent revealed by USPTO shows fingerprint scanner could be in the Apple iPhone display
3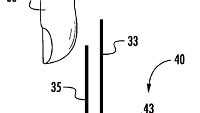 Despite
Apple's purchase of AuthenTec almost a year ago
, there are many who believe that we will never see a fingerprint sensor on the Apple iPhone. This year though, there are too many smoke signals indicating that the long rumored feature might actually be found in the next iteration of Apple's iconic smartphone.
The fingerprint scanner isn't looked at as a toy or a gimmick. Apple plans on using it as a way to help make it easier and
more secure
to send mobile payments. So when the Chief Information Security Officer at PayPal
says that there will be multiple phones out this year with fingerprint readers
, and points out the speculation involving Apple, you have to consider a fingerprint scanner to be a strong possibility for the next iPhone.
Add to that the Thursday morning release by the USPTO. The agency published an application made by AuthenTec that was assigned over to Apple. The patent details a technology that can fit inside an iPhone and can also read a fingerprint from a longer distance than other methods. While current rumors suggest that the scanner would be placed inside the phone's home button, the patent application shows the scanner being placed
inside the display
.
The application, titled "
Finger sensor having pixel sensing circuitry for coupling electrodes and pixel sensing traces and related methods
," names the inventor as being AuthenTec co-founder Dale R. Setlak. The complex process uses different metallization layers and a method for measuring electrical flux (no, not a flux capacitor!). When not being used to scan a fingerprint, the technology used for the feature helps the touchscreen do its thing.
We could see a fingerprint sensor eventually replace passwords and PINs. But before that happens, it will have to face real world usage to see how well it will work out of the lab.
source: USPTO via
AppleInsider