Australian trucker paid to wait as first to get the new iPad, still thinks tablets are indulgence
18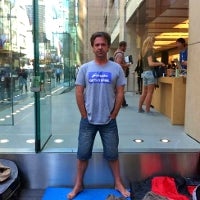 Former truck driver Stephen Parkes is being paid about $1000 to stand as first in line in front of Sydney's biggest Apple Store by a crowdsourcing service, in exchange for wearing their logo T-shirt.
Given his time zone, the 37-year old Australian has a huge chance to be the first member of the general public that bought the new iPad, but the irony of the story is that he doesn't even care about it much.
Stephen Parkes thinks that tablets are a bit of a fad, and he is doing just fine with his cheapo Android handset and a run-of-the-mill Dell laptop. We wonder if the folks manning the Genius Bar at this Apple Store in Sydney will try and make him a convert.