Augmented Reality in Windows Phone 7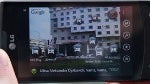 Augmented Reality
(AR) is one really entertaining feature that is starting to appear in some of the more advanced mobile OS's out there. It uses the device's camera to get a video feed and then augments it with different types of content like text, audio and pictures. The goal is to give an enriched view of reality through a mobile device like a cell phone or a tablet.
It is important to mention that the augmentation is done in real time, so you can see information about real objects as you approach them. And this is not limited to just buildings – of course – but can be applied to people and really just about anything. The final goal of augmented reality is improved interaction between you and real-world objects, as well as storing more of your experiences digitally.
To use AR, you need both the hardware and software, and while the required hardware like a camera and a compass is now on almost every phone, the software is still not present on all devices. Windows Phone 7 is one new platform, which states support for AR-enhanced applications, but it seems that only the
LG Optimus 7
makes use of the functionality for now.
The Korean-based company did a good job using it and premiered its LG Optimus 7 with the
ScanSearch
Augmented Reality app, which shows you where various points of interest are situated around you, within a 3.1-mile (5km) distance. You just have to fire up the app to get a view of the world from your device's camera and that view is automatically augmented with the desired kind of POIs. In addition, by pointing the device to the sky, it displays you info about the weather. LG's ScanSearch uses information from either Google or Bing and is pretty accurate.
Unfortunately, for the time being, all the APIs for accessing video from the camera and compass are not available for third-party Windows Phone 7 developers . What this means is that AR apps cannot be developed for the platform, which leaves the LG Optimus 7 as the only WP7 offering to have the feature right now. While the lack of it on other handsets isn't really a dealbreaker, since Augmented Reality isn't widely adopted yet by either devs or users, it is still a fine extra that we enjoy, and hope to see introduced in other manufacturers' phones soon as well.
Check out this
video demo
of how the AR-based ScanSearch app on the LG Optimus 7 works: