At Ford, texting while driving is job none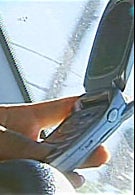 Becoming the first auto company to make such a statement, Ford has come out in favor of a federal ban on texting while driving. The automaker has thrown its support behind a bill proposed by Senator Charles E. Schumer (D-N.Y.) who wants a 25% cut of federal highway funds enforced on states that do not comply with a ban on text messging and driving. The Dearborn, Michigan based firm also supports a similar bill in the House put up by Carolyn McCarthy (D-N.Y.).
Susan M. Cischke, Ford's group vice president for sustainability, environment and safety engineering, said in the statement, "The most complete and most recent research shows that activity thatdraws drivers' eyes away from the road for an extended period whiledriving, such as text messaging, substantially increases the risk ofaccidents. Fordbelieves hands-free, voice-activated technology substantially reducesthat risk by allowing drivers to keep their hands on the wheel and eyeson the road. Ford supports a ban on hand-held text messaging whiledriving." Ford's support stops short at the company's own Ford Sync system of in-car, hands-free communication that allows most cellphones to be used without holding them, and also reads text messages aloud. Senator Schumer praised the automaker for supporting a ban, saying that the company deserves credit for stepping up and becoming the first automaker to endorse one. So far, 14 states and the District of Columbia have banned driving and texting.
source: NYTimes