Asus Transformer Pad 300 to debut for $379 at J&R, MeMO ME171 gets unboxed and benchmarked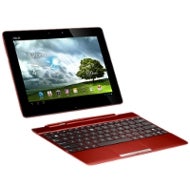 The middle child in the Asus tablet family - the
Transformer Pad 300
, which we
handled at the MWC expo last month
- is receiving its first pricing details. According to J&R reps, it will be arriving "in about a week", and cost $379 for the 16GB version, and just $399 for the 32GB one, ain't that great.
Granted, the 300 takes it down a notch with a non-HD screen and a slightly thicker chassis, but the 32GB version is to cost much less than an iPad 2 with the same storage, and will likely fall even further fairly quick if history is any guidance.
MeMO ME171
, the cool 7-incher with the built-in stylus. It is powered by a dual-core Snapdragon S4 and retails there for the equivalent of $585.
At CES in January Asus mentioned there will be a quad-core version
MeMO ME370T
, which will sell for $249 and become the first cheap yet fully functional brand name Android tablet, but these plans have allegedly been scrapped for Google asked Asus to replace the project with its own Nexus tablet.