Asus PadFone 2 goes official: quad-core S4 APQ8064 inside, 2GB of RAM, 13-megapixel camera
53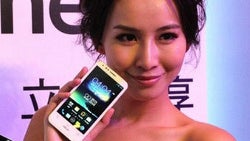 The
Asus PadFone 2
is now out. Just like that, after a couple of leaks, and right in accordance with Asus' invitations, the PadFone 2 was unveiled in Taiwan, and it's a monster of a phone.
In fact, the PadFone 2 comes with the same processor as the
LG Optimus G
, the
quad-core Qualcomm Snapdragon S4 APQ8064
along with 2GB of RAM. The screen is 4.7 inches 720p IPS LCD with boosted brightness of up to 550 nits thanks to Sharp's IGZO technology. It is reinforced with Corning Fit Glass which is both tough and light.
The
Asus PadFone 2 camera
comes at the whopping 13-megapixel of resolution and it's a f/2.4 BSI sensor from Sony. It shoots 1080p video at 30fps, 720p at 60fps and makes as many as 100 continuous shots at the full resolution. There is also a 1.2-megapixel front-facing shooter.

Asus is bringing this out quickly - the
release date
is set for next week in Taiwan, and that's why initially the device will feature Android 4.0 Ice Cream Sandwich, but it'd swiftly get updated to 4.1 Jelly Bean. For other markets, it's not yet clear when the second-gen PadFone will arrive.
The global model features WCDMA 900/2,100MHz radios and LTE at 800/1,800/2,600MHz bands, but Asus is likely to also bring specific models for markets like the U.S. The device also supports NFC.
Of course, the second-generation PadFone comes with the tablet dock (actually called the PadFone Station) that makes the PadFone a PadFone. The phone alone has 2,140mAh battery, but if you dock it into the Station, you get an additional 5,000mAh capacity. The display is the same 10.1-inch 1280 x 800-pixel one.
The
PadFone Station
has changed a lot, and all of that's for the good. First and foremost, Asus has slimmed it down. That was our main critique about the first Station. The PadFone is now docking in vertically, not horizontally, and there is no cover - it simply slides in with its backside exposed, allowing for an overall thinner profile of the tablet.
The station itself weighs 1.13 lbs (514g), and with the phone docked it gets to 1.43 lbs (649g), which is reasonable. Actually, that makes it larger than the iPad. Instead of a proprietary 40-pin connector, you also get the peculiar 13-pin connector, that luckily is compatible with microUSB.
Lastly, the Asus PadFone 2 prices start at around $620 for the 16GB model, and go to as much as $750 for the 64GB model in Taiwan. If you buy it as a bundle with the PadFone, you'd pay $210 more at each price point. And alone, the Station costs $310. So there you have it, one of the hottest devices this Holiday has just been released. Are you getting it?
source: Asus
Recommended Stories