Asus Eee Pad Transformer 2 with Windows 8 coming down the pipe
8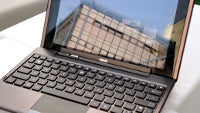 In its marketing materials at the recent Computex 2011 expo, Asus has slipped some words about its 2012 plans, and it looks that the
Eee Pad Transformer 2
will receive a Windows 8 version as well, together with an updated Android one.
Microsoft demoed Windows 8
recently, which is supposed to run on everything from the smallest tablet to the large server, and adapt its interface accordingly. For tablets we have Live Tile-based interface, similar to what current Windows Phone 7 handsets sport, just with larger tiles, displaying app information in real-time.
Windows 8 should also sport its own application store, instant boot times, and will be able to run on the dual-core Tegra 2 chipset that is in the
Eee Pad Transformer
.
The Asus Eee Pad Transformer 2 will supposedly be
thinner and lighter
than the current one, but will again sport the iconic keyboard dock, and is rumored to keep its decent price, while the current model becomes cheaper. Too bad we will have to wait until 2012 when Windows 8 hits in its full touchy-feely glory, but we have the sneaking suspicion that there will be a lot of Windows 8 gear as early as CES 2012 to feast our eyes and hands on.