Asus Eee Pad Slider hands-on
9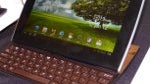 Asus had a hit with its convertible style Asus Eee Pad Transformer, which seems to be something they're implementing with future devices as well, but rather than buying a separate keyboard attachment, the
Asus Eee Pad Slider
incorporates everything into one piece. Without question, this is pretty serious because we haven't seen any other tablet going with this kind of form factor.
Looking straight at the Asus Eee Pad Slider, it's rather difficult to differentiate it with the original Transformer, but when we take a look around its sides, we're instantly presented with a thicker looking tablet. Well, the added thickness is warranted obviously because it manages to incorporate a
physical keyboard
that's accessed by sliding it out. When it's exposed, the tablet sits at a fixed angle, which makes it optimal to use when the tablet it placed on a tablet. However, we find it a bit challenging to use when it's placed on our lap, mainly because of its angle. Despite that, the
chicklet style keys
are raised, spaced away from one another, and have a solid tactile feel when pressed – so yeah, it's very easy on the fingers.
Aside from the keyboard it's able to tuck away inconspicuously, its
10.1" WXGA (1200 x 800) LED backlit IPS display
is pretty darn vivid looking with its wide-viewing angles and profound color production. On top of that, the
Gorilla Glass
on top of it looks to provide an additional layer of comfort to keep it looking mightily fresh and new. Very typical, it's powered by none other than NVIDIA's dual-core Tegra 2 processor that's naturally more than equipped to handle all of the intricacies of Android 3.2 Honeycomb.
Despite the larger thickness, we have to admit that the Asus Eee Pad Slider is simply an all-in-one device of some sort because there's barely any additional purchases needed to convert it into a laptop replacement. Factor in the
$479 price tag
it's sporting with most retailers, it's surely one attractive option that won't be hitting you hard in the bank.