Ashton Kutcher and Josh Gad to appear at Macworld/iWorld
16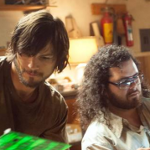 Ashton Kutcher,
who bares an uncanny resemblance to the late Steve Jobs
in the latest press stills for the biopic
jOBS
, will tell attendees at next week's Macworld/iWorld conference how it feels to play Steve Jobs for the flick. Joining him on stage will be his co-star, Josh Gad. The actor, whose wild energy lit up Broadway in "Book of Mormon," seems the perfect choice to portray "The Woz".
screened at the Sundance Film Festival
at the end of this month. The film deals with the life of Steve Jobs from
1971 through 2000
, which means there are no Apple iPhone or Apple iPad models in sight. What will be included is the friendship woth Wozniak, the founding of Apple, the initial success of the company and the hiring of John Scully. From there, Jobs is axed in a boardroom coup, starts NeXt Computer, works on Pixar, and ends up back at Apple when the company purchases NeXt.
Kutcher and Gad will take part in a session called "Playing Steve & Woz," which will take place on the main stage, room 2005 on Thursday, January 31 at 9:00 AM local time. The movie should be at a theater near you in April, and if iOS 6.1 is out by then,
Siri will be able to buy the tickets
for you!
source:
Macworld/iWorld
via
Engadget