Are your pockets staining the plastic strips on the new iPhone?
99+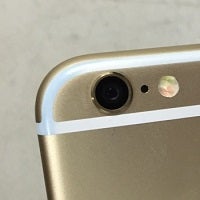 The plastic spacers on the back of the new
iPhone 6
and
iPhone 6 Plus
have been a sore point with some owners. They are a functional necessity though, barring a complete redesign of how to integrate the antennas on the iPhone.
The new iPhone has the same high-quality build we have come to expect from Apple, but it looks like these plastic spacers may ruin the fun a bit if you like to keep your phone unprotected in your pocket.
For those that do not keep their phone in a case, but pocket it while wearing jeans, there may be an emerging issue with the plastic strips getting discolored through the repetitive action of sliding the phones in or out of the pocket. The dye from the denim rubs on the plastic strips and makes the device look dirty.
Some folks have apparently tried to use some traditional methods to clean the plastic (without dunking the whole thing in bleach) to no avail. In some photos a user sent to BGR, you can clearly see the discoloration on the white strips found on a gold iPhone 6. User inquiries to Apple received instructions to "carefully scrub their iPhones" with a variety of cleaning products. Beyond that however, no solutions were forthcoming.
We imagine that this issue is not as evident on the space gray, or silver iPhone, whose plastic spacers are not white, but they are certainly light enough that they might stain coloration from outside elements.
Have you noticed this on your iPhone 6 or 6 Plus? Were you able to clean it off using something like Mr. Clean Magic Eraser, or are you just letting your clothes set the mood on your un-cased device? Is this the beginning of "dye-gate?"
source:
BGR