Archos says all G9 tablets getting ICS by February
3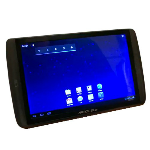 Archos isn't a name that usually comes up when talking about Android tablets, but the company does have a couple pretty nice options in the budget range with the Archos 80 G9 and 101 G9 (the 8" and 10.1" versions, respectively), and it seems those models will soon be seeing some Ice Cream Sandwich love.
Archos is in the South Hall at CES right now, and is showing off ICS running on the G9 tablets. The reps there have said that both G9 tablets will be getting the official update to ICS by the first week of February. This matches up perfectly with what we had heard before, which was that the tabs would be getting the
ICS update in Q1
of this year.
Apparently, if you are at CES, the demo units are running Android 4.0.1, but the update will bring it to Google's baseline 4.0.3. Archos also said that ICS will be pre-loaded on retail versions of the G9 tabs sometime soon after the official OTA.