Approximately 1.7 million iPhone 4 units sold in the first 3 days of availability
This article contains unofficial information.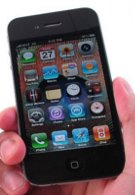 Call it a blow out bash for Apple, but their latest iPhone managed to pull in some impressive sales figures despite seeing shortages in supply. Naturally it leaves little doubt that there is a huge demand for Apple's latest pride and joy as the company announced that it has sold approximately 1.7 million iPhone 4 units from its launch on the Thursday up until the opening weekend on Saturday. This launch by far has proven itself to be the biggest yet in Apple's history and the company could've potentially see additional sales if they weren't plagued with supply issues. Apple CEO Steve Jobs said, "This is the most successful product launch in Apple's history. Even so, we apologize to those customers who were turned away because we did not have enough supply." We'd imagine that the handset's major redesign could've been one of the driving forces that allowed some of those owners still holding onto the original iPhone, or even the 3G, to make the plunge and upgrade to the newer handset.
Apple iPhone 4 Specifications
|
Review
source: Apple