Apple's the Hollywood darling with iDevices appearing in 40% of the 2011 box office hits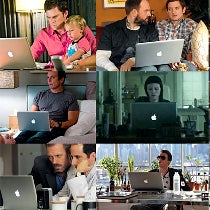 Our collective geek subconscious no doubt registers each time an Apple device or an Android gear shows up in a movie or TV series scene, but now research firms have dressed up those appearances into numbers for 2011.
Last year Apple was the Hollywood darling with
iDevices appearing in no less than 40% of the 2011 box office hits
, and that's without Apple paying a dime, but rather offering barter deals in its own ads and iTunes screens, like with "Mission Impossible".
Hit shows like "House M.D.", "30 Rock", "The Good Wife", "Gossip Girl" and so on, are waving iPhone, iPads and MacBooks left and right, often without even a "
promotional consideration furnished by Apple
" tagline in the end. In fact, in the IMDB list of promotional considerations Apple is present only for "House M.D.", and older episodes of "30 Rock", from the famous shows.
Apple's appearance in top box office movies was twice as often in 2011 as that of other traditionally strong product placement computer brands like Dell or HP. Actually they seem to be the brand of choice when a traditional office, or government agency atmosphere has to be presented, like in "The Office", or "CSI". In contrast, Apple's gadgets are rarely into the hands of a villain, and are often the topic of devotion and discussion themselves for whole episodes, like with "Modern Family", or when Raj from the "Big Bang Theory" fell in love with Siri. And that's a show in which one of the main characters, Sheldon Cooper, has a little green Android robot on his desk.
Gavin Polone, who produces HBO's Curb Your Enthusiasm, says about the Apple-producers relationship that "
Apple won't pay to have their products featured, but they are more than willing to hand out an endless amount of computers, iPads, and iPhones. It's kind of a graft situation.
"