Apple's next gen maps app may include 3D street and interior views
40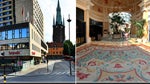 Apple has been hard at work on a next-gen maps app for iOS, including a recent purchase of innovative 3D mapping company C3. Best known for their realistic real-time 3D cityscapes, C3 also developed technology for 3D street views and interior shots, potentially putting the Apple maps app on course for a direct collision with Google Maps.
It seems clear that interior views would not be enabled without the permission of a business owner.
What's
less clear
is how directly Apple intends to take on Google Maps; they have acquired the necessary technology, and are concerned with how dependent they are on Google apps on iOS, since Google's ownership of Android creates a conflict of interest when it comes to feature parity and iOS app development. Google Maps is in fact the most famous example of this problem, since the Android version of Maps has turn by turn navigation, a feature missing from Google Maps on the iPhone.
With Apple hiring developers and making acquisitions related to their maps project it seems like there is too much smoke to not have a fire. Yet a full maps app would require not just excellent engineers and technology, but a full-scale data-gathering initiative, much like fleet of Google Street View cars. Apple would similarly need to gather comprehensive business listings, an area where they are far behind competitors like Google, Nokia, and even Verizon.
Perhaps the next version of iOS will bring more answers.
source:
MacRumors
via
Redmond Pie