Apple's new Trade Up With Installments plan is aimed at those who still own an older model iPhone
25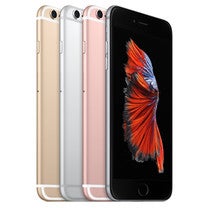 It is no surprise that there exists a large number of iPhone owners who have yet to update to the
Apple iPhone 6
,
Apple iPhone 6 Plus
,
Apple iPhone 6s
and
Apple iPhone 6s Plus
. In other words, these iPhone users are stuck with a 4-inch screen when Apple would prefer that they upgrade to a newer model. To help them on their way, Apple announced today the Trade Up With Installments plan that is also available to Android and Windows Phone owners looking to switch to iOS.
The directions are rather simple. Turn in your current iPhone, Android or Windows powered handset. Subtract the value of that trade from the cost of a new Apple iPhone, and divide that number into 24 months. That will be the monthly installment price that you will be paying Apple for your new iPhone.
Caveats? Of course. The plan is available to U.S. consumers only and can only be applied to purchases made in an Apple Store. And the monthly payments depend on a number of factors such as the phone you are trading in, and which iPhone you are buying. Always keep in mind that there is no such thing as a free lunch (or a free iPhone, apparently).
Trade in an Apple iPhone toward the purchase of a 128GB Apple iPhone 6s Plus, and you will be paying $35.37 a month over 24 months. On the other hand, trade in an
Apple iPhone 5
toward the purchase of an
Apple iPhone 6
and you will pay $14.54 monthly. Keep in mind that the price does not include AppleCare+.
With this new plan, the iPhone you receive will be unlocked. Unlike the iPhone Upgrade program, the Trade Up With Installments plan does not promise you the latest iPhone each year.
Click on the slideshow to see a chart of possible trades and the resulting monthly cost. While the
Apple iPhone 4
and
Apple iPhone 4s
will bring you $100 in a trade, the
Apple iPhone 6 Plus
is at the opposite end of the spectrum, valued at $350. Apple says that Android or Windows Phone will bring you a trade-in value of $100 to $300 depending on the model and the condition of the handset.
source:
CNET