Apple's latest policy on apps could lead to ban of Candy Crush Saga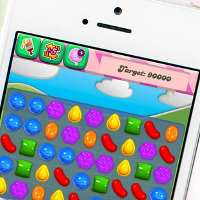 So you're a big-time
Candy Crush
player on your Apple iPhone, are you? Better play the game while you can. It seems that changes to Apple's policies in the iOS 8 version of the App Store, prevents games from rewarding players for watching an in-app video, or sharing things on social networks. The latter is employed by
Candy Crush
. Some games will give you an extra turn if you watch a video containing an ad.
Apple's main concern is with the possible manipulation of an app's ranking in the App Store. According to some developers, Apple has been rejecting apps that reward players for viewing an ad, or for sharing on a social network. One developer, whose app was previously listed in the App Store, received a rejection notice even though all he did was re-skin the app. Apple cited guidelines 2.25 and 3.10 in rejecting the application.
Apple's guideline 2.25 prevents developers from promoting apps from other developers "
in a manner similar to or confusing with the App Store
." In addition, a targeted group of customers cannot receive added value from such a promotion. Guideline 3.10 prevents the manipulation of user reviews and chart rankings. Apple said the developer's app showed an EA game as a free game, violating the first rule. The other violation occurred when the app offered free in-game credits for watching videos of apps made by other developers.
"2.25: Apps that display Apps other than your own for purchase or promotion in a manner similar to or confusing with the App Store will be rejected, unless designed for a specific approved need (e.g. health management, aviation, accessibility, etc.) or to provide significant added value for a targeted group of customers.

3.10: Developers who attempt to manipulate or cheat the user reviews or chart ranking in the App Store with fake or paid reviews, or any other inappropriate methods will be removed from the iOS Developer Program."-Apple guidelines for app developers
Apple benefits as its mobile ad network iAd provides non-incentivized video. But this is about more than just helping iAds. Apple wants to keep its rankings free from any shenanigans, especially in light of a new App Store search algorithm coming in iOS 8.
There is talk that Apple will retroactively apply these rules, and an email sent to a developer hinted at such when it said that "
Going forward, it is appropriate to remove any form of incentivized rating, or ad viewing, etc."
Would Apple really remove a game as popular as
Candy Crush
until it removed the offending code? The tech titan might make some exceptions. In the same email mentioned above, Apple said, "
Another app being out of compliance is not a reason for your app to be
."
source:
MacRumors