Apple's 'Move to iOS' app for Android now available in Google Play
29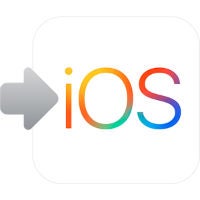 One of the most annoying hurdles to pass if you want to switch from one mobile OS to another is in making sure your data comes with you in the move. Microsoft has long had an app to make it easier for users to switch from Android (although the app suggestions have always been lacking), and now Apple is also offering an app called "Switch to iOS from Android", which is now available in Google Play.
According to Apple, you'll be able to use the app to move from any Android 4.0+ phone or tablet to any iOS device as long as it is running iOS 9. The process itself is fairly straightforward too. Just install the 'Move to iOS' app on your Android device, start it up and accept the terms of service. During the setup process of an iOS 9 device, you'll be able to choose an option for moving from Android, which will give you a code to enter in the Android app.
Once that is done, the two devices will connect via a private WiFi network and you'll be able to transfer over contacts, message history, camera photos and videos, web bookmarks, mail accounts, calendars, and free apps. As always though, paid apps are a bit trickier. Apple has made it pretty easy by adding any paid apps you have on Android to a wishlist in iTunes. So, you'll have to buy the apps again, which can get pricey, but if you've invested a lot of money in Android apps, you might be less likely to switch anyway.