Apple's App Store hits 45 billion downloads, $9 billion paid to developers
9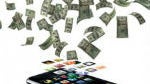 Apple's
quarterly earnings call
had quite a bit of interesting information. It started out with the expected revenue numbers, which were better than expected, and moved on to hints that we may not see any new Apple products
until the fall
. Then, Apple also tossed out some interesting information about the App Store.
Apple said that the App Store has hit the 45 billion download mark, which means there were about 5 billion downloads in the last quarter. Assuming that pace keeps up, we will probably be seeing the 50 billion extravaganza in late June/early July (we'd expect some sort of giveaway contest by Apple). Tim Cook also said that to date, Apple has paid $9 billion to developers, and maybe more impressively,
the company is now on pace to pay developers $1 billion per quarter for the apps and in-app items sold on iOS
.
Lastly, Cook talked up iCloud a bit saying that the service has added 50 million users in the last quarter, putting it at 300 million total users. Not a bad roundup of numbers, it's just a shame that we may not see any new products until the fall.