Apple working on new, more energy-dense batteries
9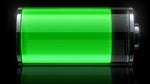 Apple's mobile devices have been generally known for having a pretty good battery life. Nevertheless, the guys at Cupertino are in the works of developing their next latest an greatest invention. Judging by a newly-published patent, which is titled "Increasing Energy Density in Rechargeable Lithium Battery Cells," Apple is attempting to increase the time between charges of their battery cells without the bigger footprint of a bulkier battery.
The new technology involves the implementation of the so-called "multi-step constant-current constant-voltage (CC-CV) charging technique," which will increase the energy density of the new battery cell. More efficient batteries will also allow making them smaller, resulting in a better use of space within the electronic device.
It is still unknown which one of Apple's upcoming devices will introduce the new technology to the market, if any ever will anytime soon. Lets just hope that the new batteries will be immune to
self-combustion
.
source:
AppleInsider
via
Boy Genius Report