Apple wants to add Siri voice commands to "smart docks" around your home
2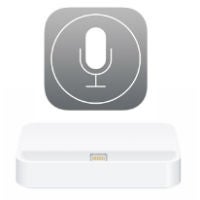 Various companies are working on bringing "always-on" voice command options to consumers. Motorola obviously added it to the Moto X, and Qualcomm has added support for it with the Snapdragon 800, though no device has taken advantage of that yet (the Nexus 5 is only listening when you're on the homescreen). A new patent makes it look like Apple is also looking into ways to offer always-on Siri.
Apple's solution doesn't offer true always-on, but rather it will enable your iOS device to always be listening as long as it is in a newly patented "smart dock". A couple days ago, Apple was granted a new patent titled "Smart dock for activating a voice recognition mode of a portable electronic device", which was originally filed in May 2012. As you can guess from the title, the patent would allow a smart dock to activate Siri on an iOS device.
The dock would have a clock and radio built in, and a microphone that would listen for an activation phrase, but all of the heavy lifting would be done by your iOS device. The smart dock would also allow for hardware add-ons like a removable hard drive, environmental sensors, a GPS module and more. Some add-ons, like the GPS could be removed and used separately.