Apple wants Samsung Galaxy devices banned, Samsung fires back requiring iPhone chip contracts
48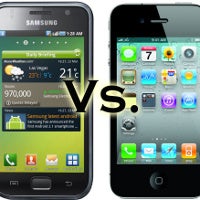 If you thought that the new year will bring us a break from the long and boring
Apple-Samsung lawsuits
, you're wrong - Apple has just filed a fresh set of ten injunctions against Samsung's Galaxy devices in Europe. Samsung in return requires access to Apple's contract with Qualcomm, which might reveal that Cupertino is infringing on Samsung chip patents.
Samsung could be infringing on Apple patents with ten of its phones and five tablets, according to Germany's Dusseldorf court. Cupertino is looking to ban those 15 devices from retail shelves in Europe.
The Korean company has fired back by asking Apple to give it its contract with Qualcomm over the MDM6610 chip used in iOS devices. Digging in those contracts, Samsung is hoping to find a flaw, despite the fact that Apple says it's covered by Qualcomm's licenses.
"One of Apple's primary defenses is that it is entitled to use the chipsets at issue,"
Samsung's lawyer stressed. The current Samsung Android flagship, the Samsung Galaxy S II, could also be banned in Europe if Apple succeeds.