Apple to recommend apps for your accessories, accessories for your apps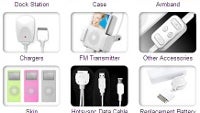 The world of made for
Apple accessories
has grown tremendously recently with everything from cases to heart rate monitors, but while some of those come with a particular app in mind, other accessories are pretty universal and their functionality could possibly be leveraged by apps. And Apple will help you by telling you exactly which apps use a particular accessory, at least if it indeed implements the ideas laid out in a recent patent filing.
There already is an open access to the 30-pin adapter for third-party developers and iOS 3.0 APIs have enabled hardware accessories to be accessed by apps. Currently, when you connect an accessory you are given the option to download a particular app that goes with it, but that's only implemented in a few accessories. In the general case, you'd just have to find your way through the depths of the App Store.
The new patent suggest it will be much simpler - plug in or connect your accessory and a
list of compatible apps
will pop up. And that's not just the companion application, but all other compatible ones.
Now, this could turn out to be a win-win solution - the more apps, the more popularity for a particular accessory. And users will also have the benefit of possibly more ways to use their purchase. Pair this with Apple's recent announcement that it will extend AirPlay with Bluetooth 4.0, most notable for its low-power specification and the possibilities seem endless. The new patent will also work the reverse way - install an app and it will tell you about all the accessory that could go with it.
Recommended Stories