Apple to pay $40 to certain Apple iPad buyers to settle Class Action suit
6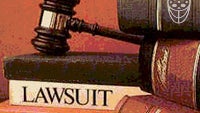 Those who purchased the OG
Apple iPad
with 3G connectivity on or before June 7th, 2010 are entitled to a $40 payment from Apple, and a discounted data plan from AT&T, according to the terms of a Class Action settlement that was sent out via email to members of the class. When AT&T first helped launch the iPad in the U.S., it first offered unlimited 3G service to owners of the tablet. AT&T eventually eliminated the unlimited data program.
Following the elimination of unlimited data for iPad owners, AT&T customers with the iPad were limited to 2GB of data, a figure that has now risen to 5GB. Meanwhile, as long as they continue to make payments on time, long time AT&T customers remain grandfathered with unlimited data.
Besides the $40 check they will receive from Apple, Class Members will get a $20 discount on a tiered 5GB data plan from AT&T bringing the price down to $30 a month.No matter what price AT&T changes the 5GB rate to, the members of the Class Action will always receive $20 off.
The settlement helps Apple avoid court costs and also does not constitute an admission of guilt by either party.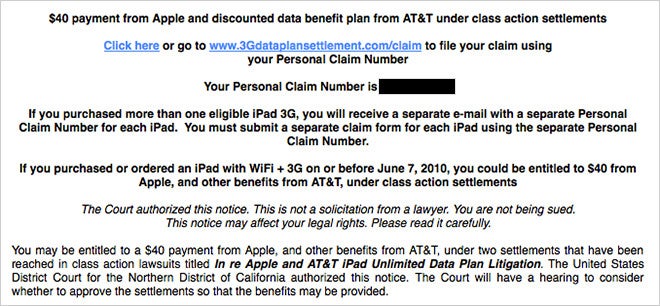 Some OG Apple iPad owners will receive $40 from Apple and a discount on a monthly data plan from AT&T
source:
AppleInsider