Apple to introduce its NFC service with the next-gen iPhone and iPad?
3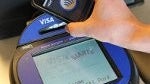 NFC (Near-Field Communication) is expected to change the ways we make purchases, and it's unsurprising that Apple wants a piece of that pie. According to Richard Doherty, director of consulting firm Envisioneering Group, the Cupertino-based company will embed NFC chips in the next-gen iPhone and iPad, and "Apple could be the [NFC] game-changer."
It seems likely that the company will implement this service into a slightly different iTunes system. If these plans are indeed realised, it's likely that in the future Apple will store not only information from credit cards, but also loyalty credits and points.
It's further reported that the Cupertino giant has created a prototype of a payment terminal for small businesses, which it may heavily subsidize or even give away to retailers for free.
Does it make a big difference for you whether an NFC chip is embedded into the next-gen Apple products or not?
source:
Bloomberg