Apple to be the only supplier of new iPhone dock adapters
98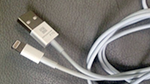 With Apple introducing a new 9-pin dock adapter on their newest iPhone next week, this is probably the worst time in history to purchase an iPhone docking accessory. That's not to say that all of your accessories will be totally useless – you will be able to purchase an adapter cord that will successfully connect your shiny new 9-pin docking iPhone to your old 30-pin accessories. But according to a new report, you will only be able to do so from Apple.
In another example of how Apple uses its market position to enrich itself and stymie competition that could lower prices
, iLounge is reporting from multiple sources that at launch Apple will be the only source of the cords that will be must-have accessories for those who have invested hundreds of dollars in accessories for previous iPhones. The cords will reportedly sell for around $10 each, or three for $29. Apple has explicitly turned down requests by vendors to develop competing cords.
Why would Apple do this? On the one hand it could be that they were simply trying to keep the switch a secret by limiting the number of OEMs that knew about the upcoming change, but if so they failed miserably at keeping the secret.
We suspect the decision was driven more by the estimated $100 million dollars in revenue Apple will make
from the cords in 2012 alone than any expectations of improved privacy.
According to the same partner sources ,Apple has given no indication of when (if ever) they will be allowed to make cords of their own. While making such cords without Apple's help would not be much of a technical challenge,
vendors fear that Apple intends to corner the market on accessory adapters in much the same way they did with MagSafe power cords for their laptops
– in that case Apple used their licensing agreements and (you guessed it) the threat of lawsuits to prevent third party OEMS from making competing products that would have undercut their own cords.
We imagine that long-time users of Apple's products won't be too surprised by this sort of behavior, but at least some customers may be turned off. If Apple does pursue this route, is it the sort of thing that would bother you or does it not really register on your radar when phone shopping? Sound off in the comments section below!
source:
iLoung