Apple sues makers of inferior quality accessories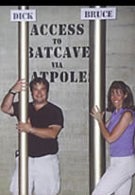 Apple's attorneys have sprung into action again, sliding down the Bat-pole and changing into their three-piece power suits. This time, it is all being done for you. The Cupertino-based tech giant is suing those companies that are making unauthorized accessories for the iTrio (iPhone, iPod and iPad). Not surprisingly, many of the unauthorized accessories are also inferior, a claim Apple makes in its suit. For example, the company claims that when it comes to these products, "Many are of inferior quality and reliability, raisingsignificant concerns over compatibility with and damage toApple's products." In the lawsuit, Apple cites the story of one iPod user who bought a third party battery charger that drained his battery instead of refreshing it.
According to Kaufman Brothers analyst Shawn Wu, Apple currently has a program that gives accessory makers a license to manufacture official products in exchange for a 20% to 25% royalty from each sale. The lawsuit claims that at least 10 firms are infringing on Apple patents while trademarks are being violated. Mark Kesslen is chairman of the intellectualproperty group at New York-based law firm Lowenstein Sandler PC. He has represented companies that applied for a license with Apple to sell officially authorized accessories. Kesslen said, "They are trying to control all aspects of theirdevices," he said, "They are using the various licensing agreements, partneragreements and brand management to make sure that it stayswithin their high standard."
The suit was filed in the U.S. District Court for the Northern District of California on July 22nd and names 6 defendants in California and 1 in Washington. Apple says it could name 20 more companies that made the unlicensed products. However, as Mr. Kesslen points out, when keeping control over your products or acting in an anti-competitive manner, "There is a very fine line," he says,"You have to be very careful."
source:
Bloomberg
via
AppleInsider