Apple still relying on Samsung for key parts used on its iOS devices
45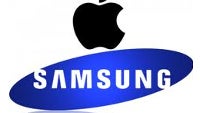 Despite another grueling battle in the courtroom between Samsung and Apple, this time
ending in what many call a victory for the Korean firm
, Apple still relies on its rival for some major parts used on its iOS devices. For example, DisplaySearch calls Samsung the top provider of panels for the Apple iPad. Samsung shipped 5.2 million units, or 62%, of the 9.7 inch screens (2048 x 1536 resolution) received by the Cuppertino based firm, for use in the production of its full-sized slates in Q1.
While Samsung accounted for 62% of the 9.7 inch tablet screens shipped to Apple from January through March, LG Display dropped into second place during that time period. Samsung's country mate was responsible for 61% of the 9.7 inch, 2048 x 1536 resolution displays shipped to Apple in the fourth quarter. But by the end of the first quarter, LG was responsible for just 38% of those screens received by the iPad manufacturer.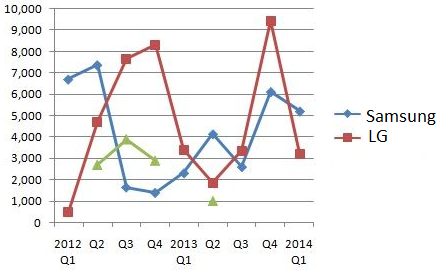 Samsung tops LG to become Apple's top supplier of full-sized iPad displays in Q1
Besides providing displays for the full-sized iPad models, Samsung also might find itself shipping to Apple the next generation A8 processors. While
TSMC is supposed to be providing Cupertino with the A8 chip
, it is believed that Samsung will also send some A8 production Apple's way. The last we heard,
Sammy was having problems with the 20nm process
needed to produce the chip, but was still being counted on to provide the silicon to Apple.
There have been rumors for years that
Apple would replace Samsung completely
with TSMC, for production of its Ax chip. But each year, Samsung would find itself called upon by Apple, to provide the processor. The same thing would be rumored each year for displays, with talk that Sharp and LG would be able to handle all of the business. Instead, Samsung managed to get called back each year by Apple, to provide panels.
You would think that this relationship could be the basis of a patent deal to be worked out between the two companies. But don't hold your breath. When massive egos and huge amounts of money are in the way, common sense is the first casualty.
source:
ZDNet.kr
(translated) via
CNET