Apple starts work on iPhone 5 ads
25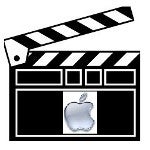 Out in Los Angeles, Apple has allegedly
begun work on a series of television commercials
for the Apple iPhone 5
. According to one source for Apple Insider, the Cupertino based firm is sticking with its long time ad agency TBWAChiatDay. Another source says that the production schedule shows that filming on the first set of commercials for the iPhone 5 will wrap in the middle of October's first week.
The timing of the production of the Apple iPhone 5 ads fits in with the latest reports of an
October launch of the phone
. Apple has been known to film television spots more than a month ahead of product launches. Last year, for example, Apple started filming a series of ads for the the iPhone 4's Face Time feature in late May while the launch date for the smartphone was June 24th (check out the videos below). Back in 2008, the Apple iPhone 3G ad was filmed on a set in L.A., converted to look like the interior of an Apple Store, 5 weeks before the launch of the second-generation iPhone.
The current set of ads for the Apple iPhone have the tag line, "If you don't have an iPhone, you don't have an iPhone." However, you can expect
something new for the ads
currently being worked on for the Apple iPhone 5.
source:
AppleInsider