Apple staff gets training on direct downloads of TV shows and movies?
This article contains unofficial information.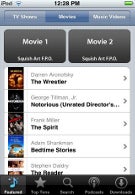 The current OS allows the iPhone to directly load videos from the YouTube app and from video podcasts downloaded from the mobile iTunes app. Letting a user of the device select video to watch and then have it load up directly on the handset would seem to be the next logical step for Apple to pursue, although it isn't yet known whether or not such downloads would be available over the 3G networks or just over Wi-Fi. When the iPhone was first released, music downloads from iTunes had to be done over Wi-Fi, a limitation that no longer exists. And while video files are much bigger than music files, the phone's U.S. carrier, AT&T, is
planning
to double their 3G network's speed to HSPA 7.2Mbps, which should make it much easier for the iPhone to support direct loading of TV shows and movies.
source:
AppleInsider