Apple satirizes Clinton and Trump to promote apps in the App Store; here is who Bing says will win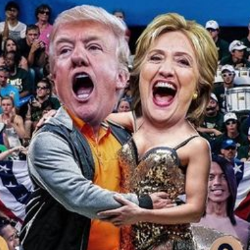 If you live in the U.S., you are probably thankful that this presidential campaign is winding down. Has there ever been a more contentious battle for the White House? The good thing is that both candidates have their quirks and idiosyncrasies that allow the two to be easily characterized and spoofed. To that end, we suggest that you go to YouTube and check out Saturday Night Live's satire of the Clinton-Trump debates.
Apple has decided to take two easily identifiable slogans used by the candidates, and use them in an attempt to promote certain apps. Trump's "Make America Great Again" has been turned into "Make Chats Great Again," which headlines a number of stickers for iMessage chats. In the meantime, Hillary's "I'm With Her," is "I'm With Purr." This section is all about felines, of course.
Election Day is less than a week away. Here are a couple of apps for you to follow, depending on who you want to win. If you support Hillary Clinton, Huffington Post is the way to go (
iOS
|
Android
). If Donald Trump is your man, The New York Post should be your daily read (
iOS
|
Android
).
One last word on Election Day. Remember how
Bing/Cortana ran up an amazing record of predicting World Cup games
? Eventually, the algorithms employed by Bing helped it make stunning calls on NFL games, elections and Dancing With The Stars. Right now, Bing gives Clinton an 87% chance of winning the election.
source:
BGR