Apple reports lower iPhone sales in Q1 than expected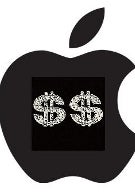 Despite reporting fewer sales of its iconic iPhone than expected by the most optimistic on Wall Street, Apple reported the most profitable quarter in company history. The Cupertino based company, just 2 days away from making some major announcements regarding a possible tablet and news on the touchscreen iPhone, reported selling 8.7 million units of their handset vs. predictions of 9 million from the most wildly bullish on the Street. International sales were strong and made up 60% of the quarter's revenue and tighter controls led to improved gross margins of 40.9% from last year's 37.9% A record 3.36 million Macs were sold during the three month period, a 33% increase from last year. The iPhone total was a 100% increase fron the same period last year and the company sold 21 million iPods during the period for an 8% decline.
For it's 2010 fiscal first quarter, Apple earned $3.38 billion or $3.67 a diluted share vs. last year's figures of $11.88 in revenue, $2.26 billion in earnings or $2.50 a diluted share. CEO Steve Jobs said, "The new products we are planning to release this year are very strong starting this week with a major new product we're really excited about." In 2 days, Apple will be holding an event in San Francisco rumored to include the introduction of an Apple tablet, the debut of a 4th generation iPhone and/or iPhone OS 4.0 and quite possibly the announcement of a Verizon Wireless branded CDMA model of the iPhone. After reporting the numbers, Apple's stock is up .9% after hours after rising 2.7% during the regular trading session.
source:
9to5Mac