Apple receives patent for handheld system that remembers your hand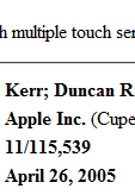 Imagine a cell phone that remembers who you are simply from the way you hold the device. Sounds like science-fiction, but Apple has just received a patent for a system that uses capacitive sensors to recognize you from the way you hold a handheld device. Once the unit recognizes who is holding it, buttons can be moved and settings personalized to reflect the way the person using the handheld product likes to have things set up.
If this all sounds far-fetched, earlier this year Apple requested another patent (Cupertino collects them as if they were Pokemon), this one for disappearing buttons. It seems like the perfect personalization system that could lead to phones that lock out all unrecognizable hands, change bookmarks, or even have custom news, weather and sports ready at the touch of the phone. If this does prove to be a viable technology for cell phone use, we will have to hand it to Apple for developing the idea (pun intended).
source:
USPTO