Apple received patents for a voice-operated iPhone dock, a new emergency dial method, and more
5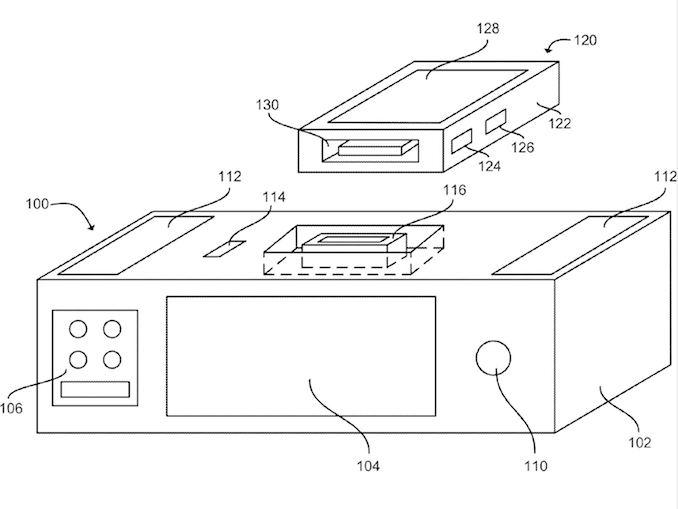 The newly patented dock could feature a dedicated touch display and wireless charing for mobile devices.
Apple has received a bundle of 54 granted patents today, some of which are not really newsworthy, while others seem quite exciting. One of the notable patents relates to a smart dock device for activating voice recognition mode that apparently works with Siri and your iPhone to deliver wholly voice-operated controls of your device, and a lot more features. Cupertino has also been granted patents for a new method for dialing 911 in an emergency and a navigation-related feature that determines when you leave your vehicle.
The smart dock is obviously what excites us the most, as the patent describes a wireless charging feature, as well as a dedicated on-dock touch display that will provide feedback about the dock's operations. The concept dock also benefits from a built-in processor that will be able to receive voice input and send it to the mobile device attached to the dock, or vice versa. Apple's main idea, as described by the patent, is to allow smartphone owners to interact with their handsets without the need for any physical interaction with the screen, claiming this as a distinctive feature for the dock. Apparently, the dock would be able to call Siri up if you asked it, and will facilitate a voice-only interaction with features on your mobile device. It sounds a bit like a smart speaker, doesn't it?
Secondly, the Apple has patented a new method of calling 911, dubbed "Biometric Initiated Communication", which has potential to find other applications, besides calling for help. The patent envisages a safer and better way of getting help in an emergency, with a combination of fingerprints or touch inputs that would automatically alert the hotline of your trouble. The patent suggests that the function would be set up similarly to how users setup the Touch ID function, which would ensure that people have different and personal combos that call 911.
Thirdly, Apple has received a patent for a technology that would use your iPhone's sensors to determine whether and when you leave your vehicle. The concept is seemingly intended to be more than a simple CarPlay extension and may also be integrated with security features that recognize unusual disturbances. The feature would be able to 'know' when you have stopped driving and started walking, and would pop up the relevant navigation interface for the right mode of transportation.
Lastly, some of the total of 54 granted patents related to the designs of a new around-the-ear headphones, similar to the Powerbeats3, and a new foldable iPad cover, but nothing as noteworthy as a Siri-powered dock.
As it normally happens, these patents could end up on some forgotten archive shelves at Cupertino, but could also just as well hit production belts in a year or two – we simply can't know. One thing is for sure, though - Apple is actively looking to expand its voice-operated hardware and software arsenal, irrespective of whether the patented dock will ever see light. We guess the HomePod that will be released this year will give us a better all-round picture of where Apple is heading within the sphere of voice-operated tech.
Source: USPTO (
1
), (
2
), (
3
), (
4
) via
9To5Mac