Apple pushing out iOS 9.0.2 one week after iOS 9.0.1 was released
22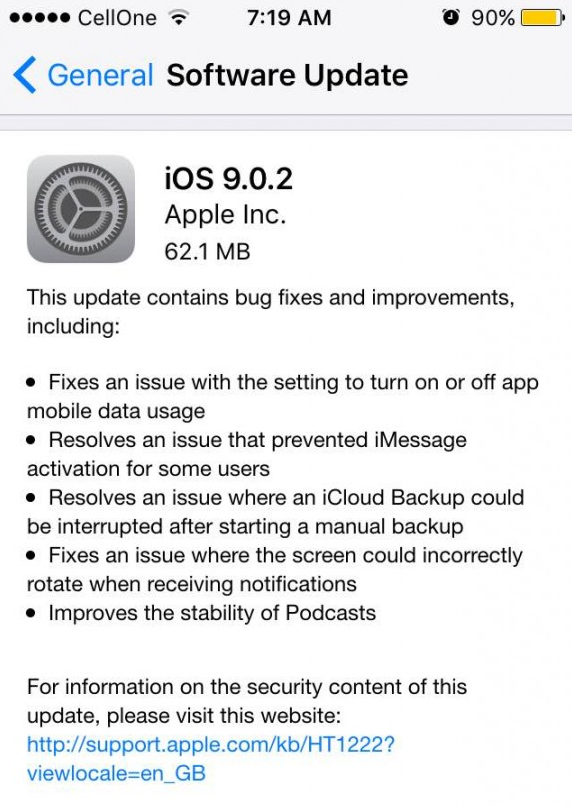 Apple sends out iOS 9.0.2
Tonight, Apple is in the process of sending out iOS 9.0.2. This comes
exactly one week after the company released iOS 9.0.1
. The changelist includes a fix that repairs an issue with the setting that turns on or off the app mobile data usage. Some users were having trouble activating iMessage, but this update clears up that problem.
Another issue taken care of with iOS 9.0.2 was one that allowed a manual iCloud Backup to be interrupted. A problem that made the screen incorrectly rotate when notifications arrived has been repaired, and the stability of Podcasts has been improved.
Since the update is going out OTA, you might not find it "waiting on your doorstep," so to speak. Be patient, you will receive iOS 9.0.2. The update weighs in at 62.1 MB which makes it larger than the iOS 9.0.1 file, which was 34.1 MB. While not a large size for an update, you might want to be hooked up to a Wi-Fi connection anyway, when beginning the updating process. And you should make sure that your battery is at least 50% charged when downloading and installing iOS 9.0.2.
Thanks for the tip!
source:
TimesNews.co.uk