Apple projected to be the world's biggest chip buyer in 2016, Samsung has its business cut out for it
17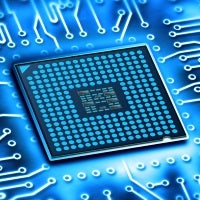 Research powerhouse Gartner released a report which summarizes the semiconductor consumption habits of notable mobile technology vendors throughout the past year. There are some interesting and very telling takeaways to be had from it. Unsurprisingly, Samsung and Apple usurped the top two places for the fifth consecutive year, with no less than 17.7% of the world's semiconductor business ($59 billion worth of chips) shared between the two.
Meanwhile, Samsung's semiconductor arm is killing it since it now manufactures premium chips for both Apple and Qualcomm. Selling the production to two of the world's largest silicon consumers should help Samsung stay afloat for the foreseeable future, even though semiconductor business is in decline. The Top 10 companies ranked by Gartner bought $123 billion worth of chips, accounting for 36.9 percent of worldwide revenue in 2015. This was down from 37.9 percent in 2014.
Speaking of decline, we get to learn that the Koreans' demand for chips actually decreased by some 3.6% in 2015, while that of Apple increased by
7.1
% (and ended up responsible for an $800 million YoY increase in consumption). At this rate, the iPhone maker is projected to become the world's largest chip consumer by the end of 2016. Is Apple on a roll or what?
For those who like numbers, here are the complete stats provided by Gartner.
2014 Ranking
2015 Ranking
Company
2014
2015
Growth (%)
2015 Market
Share (%)
1
1
Samsung
30,989
29,867
-3.6
8.9
2
2
Apple
27,177
29,116
7.1
8.7
4
3
Lenovo
13,743
13,329
-3
4
5
4
Dell
10,880
10,686
-1.8
3.2
3
5
HP Inc.
15,616
8,634
-44.7
2.6
7
6
Huawei
6,040
7,020
16.2
2.1
6
7
Sony
7,631
6,947
-9
2.1
-
8
HP Enterprise
0
6,473
-
1.9
9
9
LG Electronics
5,743
5,533
-3.7
1.7
8
10
Cisco Systems
5,817
5,430
-6.7
1.6
Others
216,695
210,684
-2.8
63.1
Total
340,331
333,718
-1.9
100
source:
Gartner