Apple posts bond while Samsung asks for stay of Samsung GALAXY Tab 10.1 injunction
15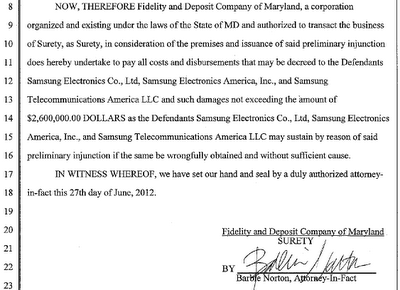 Apple posted a $2.6 million bond
On Tuesday, Judge Lucy Koh
granted Apple's request for an injunction against sales of the Samsung GALAXY Tab 10.1
. Koh had the case sent back to her from the appeals court and ruled in Apple's favor. On Wednesday, things happened again with rapid fire speed. First, as the judge had requested,
Apple posted a $2.6 million bond to cover any damages to Samsung
that Apple could be responsible for if the injunction does not hold up. Secondly, Samsung moved for a stay of the injunction pending the hearing of its appeal. Finally, both sides tried to get expert testimony presented by the other side excluded. Apple was able to get a large number of expert papers thrown out including one written by a Samsung expert that claims that Apple infringed on the '516 patent.
Samsung argues that it is likely to prevail on appeal because the court "
erred by issuing a preliminary injunction based on a stale and incomplete record
" and the injunction "
is improper based on the current evidence
". The Korean based firm mentioned the harm that the public would suffer from the injunction and that
Samsung's relationships with carriers would be harmed
.
We're not sure that we totally agree with Samsung on the suffering of the public if the injunction is finalized. After all, we can't see
too many hearts breaking over the Samsung GALAXY Tab 10.1
when the sequel is already out.
source:
FOSSPatents